Good Folks Project: Rodney Smith Jr.
For Rodney Smith Jr., his life's mantra is very simple — help when you can. Those simple words that his parents told him long ago have manifested in a service initiative that has taken the 29-year-old Bermuda native to all 50 states five different times, all to simply mow lawns of those who need the help. His most recent circuit around the country was specifically to help veterans.
After mowing a man's lawn in 2015, the idea dawned on Smith that he could make something bigger out of the simple act. Now, Smith runs Raising Men Lawn Care Service and encourages youth around the country to join him and mow generously for their neighbors. For taking such a simple yet impactful concept and passing kindness across the entire country, we've named Rodney Smith Jr. as our Duke Cannon Good Folks Project recipient for August 2019.
A NO-BS INTERVIEW WITH RODNEY SMITH JR.,TRAVELING LAWN CARE PROFESSIONAL


How did you have the idea to start this lawn-mowing program?
I was getting my master's degree in social work at Alabama A&M when we watched a video in class of a guy who traveled the world doing acts of kindness. Shortly afterwards, I was driving and saw a man who needed help mowing his lawn… so I pulled over to help.
Now I've been to all 50 states, five times. Each state has its own uniqueness — I like being to Utah, Oregon, Washington. It's real beautiful over there.
Have people started to help the cause?
People help me out along the way by giving money for gas and by sponsoring hotel rooms. I drive a Ford Edge with a mower in the back, and along with my smart phone, that's really all that I need.
How do folks get a hold of you to come mow a lawn?
People send me a message online requesting a mow, and then I go and do it. I give updates on my location through Facebook, Twitter and Instagram. Earlier this week I went from Chicago to New York.
Kids usually avoid mowing lawns. How did you come to love it and use it as a vehicle for your message of service?
As a kid, I didn't really like mowing at all — I did it as a chore. But going back to what my parents told me, I want to help out. A lot of people are just grateful for the service because in most cases, they don't have the funds to pay anyone. Many of these people are on fixed incomes.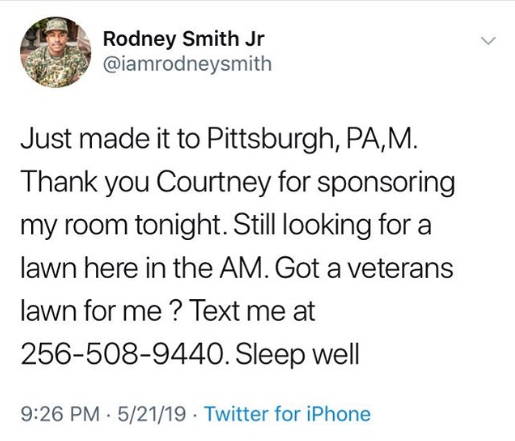 And it sounds like you have challenged kids around the country to do the same thing.
Helping people is contagious. We want kids to put down the video games and get out to do some community service, something that can turn any bad day into a good day. When they mow 50 lawns, I come out and join them for a mow.
What does the future hold for Raising Men Lawn Care Service?
To make a whole movement of kids going out and making a difference. My next big event coming up is "Seven Continents in Seven Months." I'm still trying to figure it all out, but it will come together. We'll be flying and working around the world.
---