Duke Cannon Visits Your State Fair
Upon hearing the words "county fair," you may be hit with the memories of nauseating Tilt-A-Whirl rides set to a soundtrack of Iron Maiden B-sides while your life is put in the hands of a parolee named Randy with an unfiltered Camel dangling from his toothless grin. But a large step up from the county fair is the vaunted "State Fair" where the rides are less sketchy, the music is generally palatable, the food more edible, and the hiring criteria a bit tighter. Or, said another way: pretty much everything that makes America great. Having virtually attended every State Fair through Google, here are our favorite attractions we'd like to see if we could get the day off.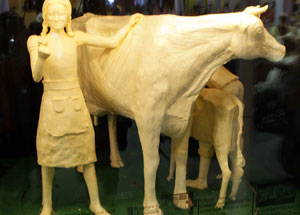 Butter Cow – Iowa State Fair
Let's break this down: a cow made of butter which comes from cows. It's like a delicious, Midwest version of the Matrix. An annual tradition since 1911, the Butter Cow is made with real pure cream butter (not that fancy, low-cal crap), weighs 600 lbs., and could be used to make 19,200 slices of toast (or 17 Denny's Grand Slam Breakfasts). Utterly amazing!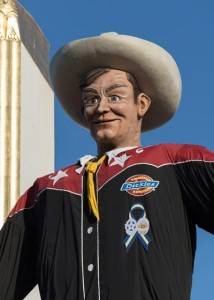 Big Tex – Texas State Fair
In a move that threatens Walmart greeters everywhere, the Texas State Fair replaced humans with a 55 ft. tall talking robot cowboy to welcome fair goers. Originally built as a Santa in '51, it was soon converted to the present cowboy form, proving that, in Texas, Santa Claus is less relevant than an everyday Texan. Tragedy struck in 2012, when a fire consumed Big Tex, but he was rebuilt even taller the next year and outfitted with size 430 x 240 Dickies Jeans. We can only surmise what soap Big Tex would use.
Foods-On-A-Stick – Wisconsin State Fair
When it comes to the most important American inventions, it's a toss-up between the Internet and foods-on-sticks. The Wisconsin State Fair is like the Silicon Valley of food-on-sticks, kicking off game-changing innovation every year. The perfect blend of taste, health, and convenience, this year's stick food favorites include: Beer-Battered Bacon-Wrapped Cheddar Sausage on-a-Stick, Country Fried Bacon on-a-Stick with Country Gravy, Deep Fried Bacon and Cream Cheese on-a-Stick, and of course, the wildly unpopular, Salad on-a-Stick.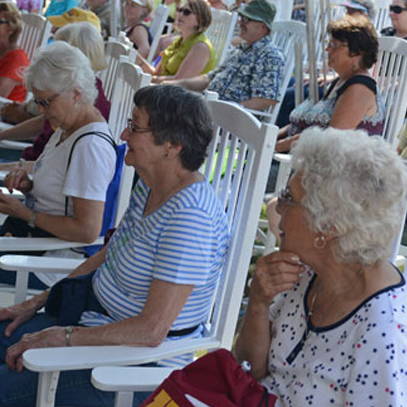 Relax and Recharge Center – Minnesota State Fair
The nation's largest fair entertains 2 million fair goers with hundreds of rides, concerts, contests, and other things that are generally "too damn loud and crowded" for many folks' taste. Enter the Relax and Recharge Center: an oasis in the middle of chaos that offers rocking chairs, free water, soft music, and great conversation with the Greatest Generation. For hard-working folks looking for a little respite, this attraction may be worth the $14 admission alone.
---